The excellent combination of two traditional Japanese foods is fascinating to many gourmets.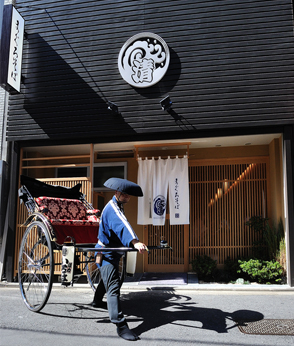 The Tuna got married to the Soba! The excellent combination of two traditional Japanese foods is fascinating to many gourmets.
Tuna is the most popular fish among Japanese people. This specialty dish, with tuna meat and soba, is eaten in a unique style. First, the customer eats the soba noodles. Then, save the liquid or add hot water. Put the cut Otoro part of fresh red tuna in the bowl with liquid. If the customer chooses a different style of enjoying this specialty dish, they can eat the tuna together with soba noodles.
The harmonious taste of the fish and soup is popular with all customers. The savory essence of tuna and soba in this delicious meal keeps the customers coming back. Since the restaurant started, customers who have tasted Maguro-Soba have returned many times.
Especially, it is becoming popular with women and children who do not care for strong fish smell. The seasonally captured tuna that is served in the restaurant is bought on that day so that it is always fresh.
The owner's vast experience enables him to select the best tuna and soba at a reasonable price.


Customers may also eat tuna in a variety of ways at the restaurant, for example, Fried-Tuna, Tuna-Hamburger, and other dishes made with fresh tuna. Customers enjoy eating tuna dishes with alcoholic beverages including beer, Japanese sake, shocyu, and wine. Many popular tuna dishes may also be available for take-out this year.

Maguro Soba Restaurant is located in Asakusa which is well known even to foreign tourists and is next to Nakamise Dori in Asakusa temple. It has a nice atmosphere which includes an interior featuring naturally warm wooden decoration and a modern exterior. Visitors will be impressed by the exquisite and sophisticated architecture. Mr. Utagawa has been managing the tuna business in Asakusa for over 40 years. Then, he found a partner who makes an excellent Soba noodle. His experience coupled with his new idea led him to begin offering this different yet authentic Japanese dish with soba and tuna to his customers in June of 2011.

The owner, Mr. Utagawa has tried to develop an innovative method to present this delicious fish to his customers. While he was developing a new dish by combining tuna and soba, he created a signature dish called Maguro-Soba which became the name of his restaurant. Mr. Utagawa got his idea from a traditional Japanese soup made from dried fish and hot tea, served with rice on the side. He tried to create a new dish by combining soba noodle soup with tuna, a successful combination with no fishy smell.
[Restaurant Information]
Maguro Soba, Asakusa Head restaurant
Address: 1-31-3 Asakusa, Taito-ku, Tokyo
Direction: Five minutes-walk from Asakusa station on Toei Asakusa-line and Tobu line
TEL: 03-3844-0934
Open hour: 11:30~22:00(Sat & Sun 11:00~)
Holiday: Wed
Seats: 50
Average spending per customer: 3000 yen
Operating company: Daisei Co., Ltd.